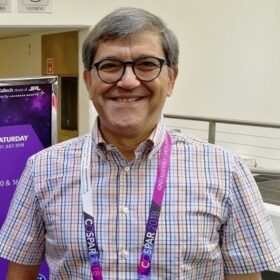 Docenti e ricercatori
Research Area: FIS/04 - Fisica Nucleare e Subnucleare
L.go B. Pontecorvo, 3, 56127 Pisa (PI), Italy.
Research activities
My research activity concerns the study of strongly interacting matter at extreme conditions of density and temperature. The equation of state (EoS) of this extreme matter is a basic ingredient to describe the structure and the early evolution of neutron stars (NSs) and for modeling various astrophysical phenomena as core-collapse supernovae (CCSN) and binary NS (BNS) mergers. My research focus on various aspects of this fascinating inter-disciplinary subject which involve different fields of physics, such as nuclear and particle physics, quantum many-body physics, astrophysics and general relativity. More precisely: 1) microscopic calculations of the EoS of nuclear matter and hyperonic matter; 2) structure and evolution of NSs and hyperon stars, hyperon puzzle; 3) quark deconfinement phase transition in NSs and its astrophysical implications (two
coexisting families of compact stars, GRBs, msPSRs); 4) BNS mergers and gravitational waves signal to constrain dense matter EoS.
Recent publications
See all the publications on:
Arpi
,
Orcid
,
Google Scholar
Courses