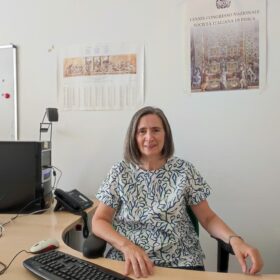 Docenti e ricercatori
Research Area: FIS/07 - Fisica Applicata (a Beni Culturali, Ambientali, Biologia e Medicina)
L.go B. Pontecorvo, 3, 56127 Pisa (PI), Italy.
Research activities
My research activity is focused on the development of innovative cutting-edge systems in the field of Medical Physics.
In the field of Particle Therapy:
In-beam PET systems for the monitoring of the oncological treatments: basic studies have been performed in several European centers, and a clinical trial is ongoing at CNAO to observe the morphological changes in the treated patients. Imaging tools for the analysis of the acquired images are also under development.
New instrumentation and dosimetry protocols are being developed for FLASH radiotherapy.
Development of instrumentation for the measurements of the differential cross sections of nuclear fragmentation reactions, to improve the accuracy of the dose deposited during treatments.
In the field of Radiology:
Development of hybrid pixelized detection systems for 2D and 3D X-ray imaging. Several systems have been already developed, and now, thanks to innovative ASICs, like Timepix4, submillimeter spatial resolution and spectral information are available. Also, the possibility to bump-bond the ASIC to high detection efficiency detectors will get high SNR images and significant dose reduction. These features lead to imaging systems characterized by higher performance than the systems currently used in diagnostic centers.
In the field of Nuclear Medicine:
Development of innovative detecting module, as an ultra-time-of-flight PET module appliable to small animal imaging, total-body PET and multi-modal molecular imaging
Recent publications
See all the publications on:
Arpi
,
Orcid
,
Google Scholar
Courses